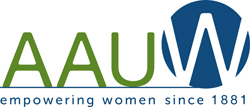 Membership
Eligibility
Membership is open to any graduate with a
associate or equivalent, baccalaureate or higher degree from a regionally accredited college or university
degree from a foreign institution recognized by the International Federation of University Women
foreign degree acceptable as a basis for admission by graduate schools at regionally accredited universities of the USA
Undergraduates enrolled in a regionally accredited educational institution may become student affiliates. Student affiliates may participate fully in all branch, state, and association programs.
Membership is not by invitation. In principle and practice, AAUW values and seeks a diverse membership. There are no barriers to full participation in this organization on the basis of gender, race, national origin, creed, age, sexual orientation, or disability.
The branch year is July 1 through June 30, but prospective members may join at any time during the year.
New members joining between Jan 1 and Mar 15 pay  only one-half of Association dues:
Annual Dues
The annual dues of branch members:
Association $59.00 *
State 20.00
Branch 16.00
TOTAL $ 95.00
New members joining between January 1 and March 15 pay only one-half:
Association dues ($29.50),
state dues ($20.00), and
branch dues ($16.00),
totaling $65.50.
New members joining between March 15 and June 30th receive a membership until June 30th of the following year.
A new member joining at a recruitment event pays:
one-half Association dues ($29.50) plus
full state and branch dues, totaling $65.50.
Student affiliates pay:
$33 for Association and state dues plus
$16 branch dues.
* NOTE: $56 of Association dues is tax-deductible
How to join
If you are interested or know someone else who might qualify, contact us for
information
AAUW brochure and application
a recent newsletter
an invitation to join us at upcoming events and branch programs
To join, access the AAUW Membership Payment Program